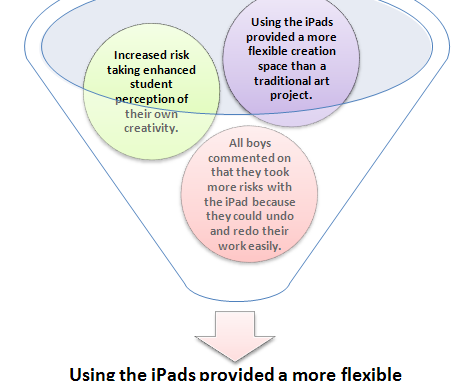 By Kathryn O'Brien
How can the use of iPad photography applications affect student perception of their creativity and engagement in their art?
---
Abstract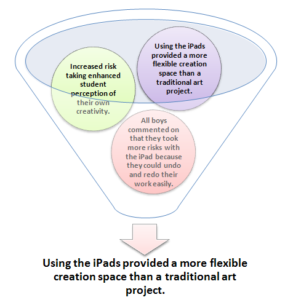 In art education, iPads have been heralded as a tool that might change the landscape of art and design. The applications available on the iPad allow students the opportunity to create, modify and extend their artistic ideas beyond the traditional mediums. Yet, how do these applications impact student perception of their own creativity and engagement? Working with a group of 42 grade four students, the author explored how students felt when working with two different iPad photography applications (Photoshop Express and Hipstamatic). From surveys and small group interviews, the students expressed great degrees of satisfaction and engagement with their work. They believed using the iPad applications allowed them to collaborate with their peers, approach their work from different angles, take risks with the artwork, and add detail. For most students, using the iPads provided them with a tool that helped foster and extend their feelings of creativity. This small study provides some insight into the impact of iPad applications as tools for creation and the creative experience.
---
Kathryn O'Brien, BEd, MEd, is a primary art specialist at Upper Canada College in Toronto, Ontario.